DREAM.3D NX Version (7.0.0 RC-7)¶
BlueQuartz Software is currently completely rewriting the DREAM.3D application and its underlying libraries. BlueQuartz Software is making trial versions of DREAM3D-NX available to any user who would like to take the brand new version out for a spin. There are some missing features in this verison as compared to version 6.x of DREAM.3D.
Key Web Links¶
Prebuilt Binaries (Free Version)¶
The current version is 7.0.0-RC-7 and is available in prebuilt binaries for MacOS, Windows and Linux operating systems:
We plan to have monthly trials available during this initial public feedback period.
New Features¶
Integrated Visualization now available¶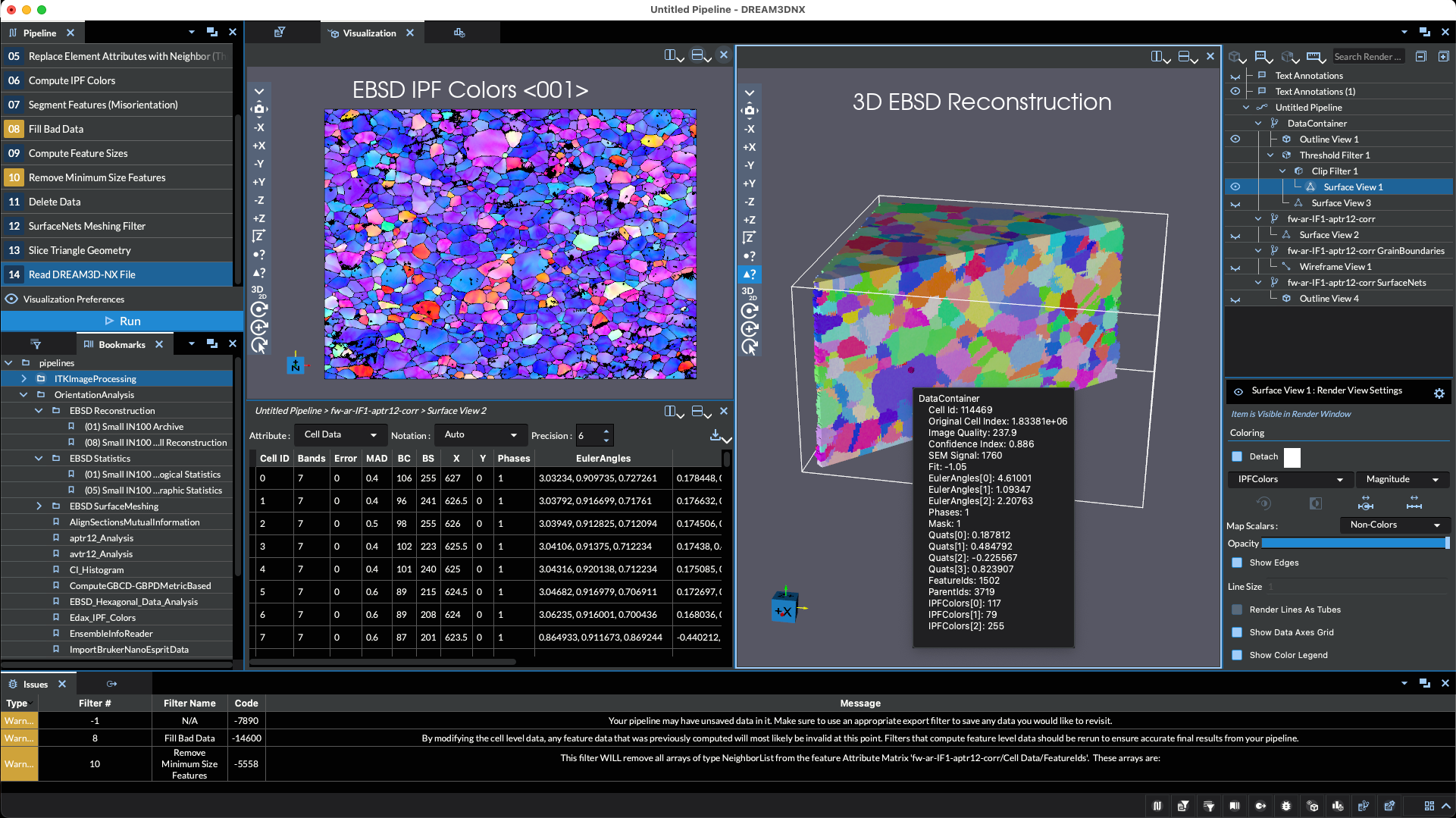 Filter Comments¶
Every filter has a comment area that can be used to document the filter's use or why certain parameter values were selected.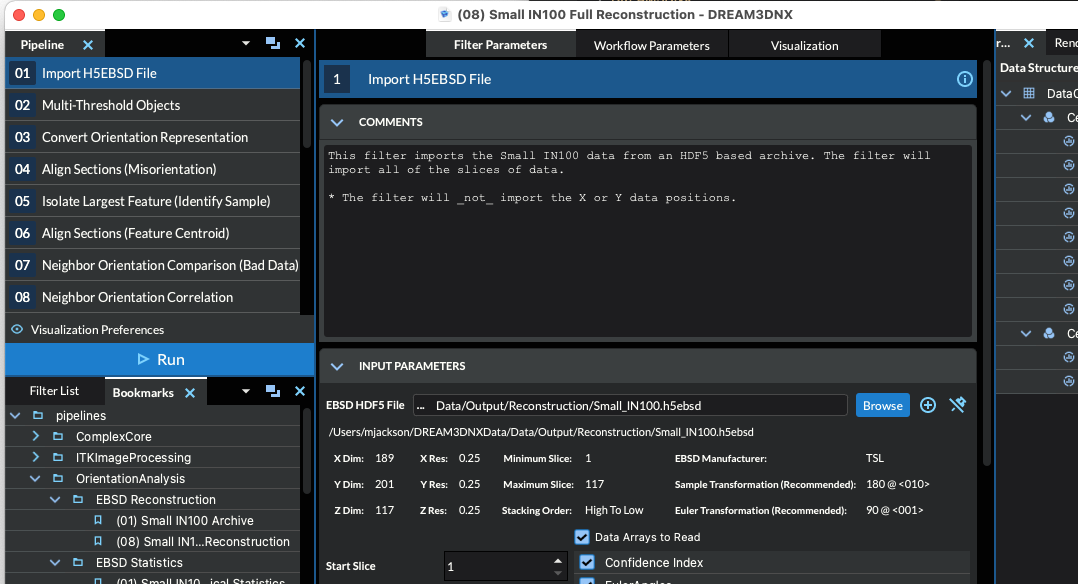 Favorite Filters¶
Filters that are used often can be added to a favorites list for quick access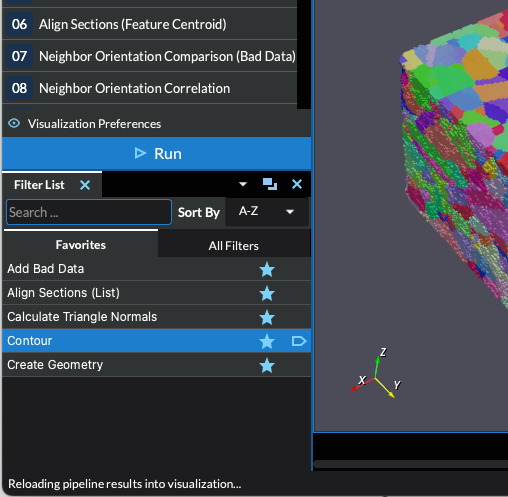 Pinned Parameters¶
For longer pipelines where the user wants to adjust specific parameters they can be pinned and will show up in the separate widget (in addition to their original filter). This can be useful when iterating on a pipeline's parameters. In the screen shot below the "Data Thresholds" parameter from the "Multi-Threshold Objects" filter has been pinned. This allows the user to easily access the values and quickly rerun the pipeline with those new parameters.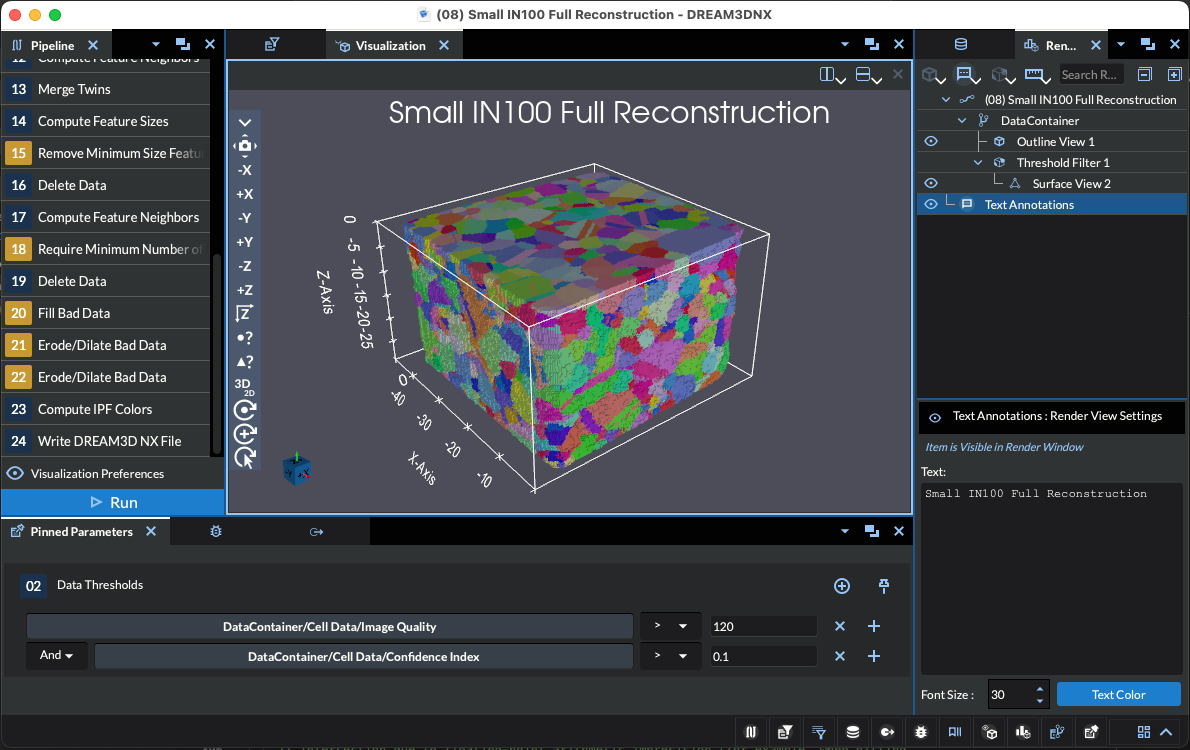 Filter Tags¶
Filters now have additional meta-data that is used when searching for a filter. Filter tags can be edited by the user and the tags are saved across sessions.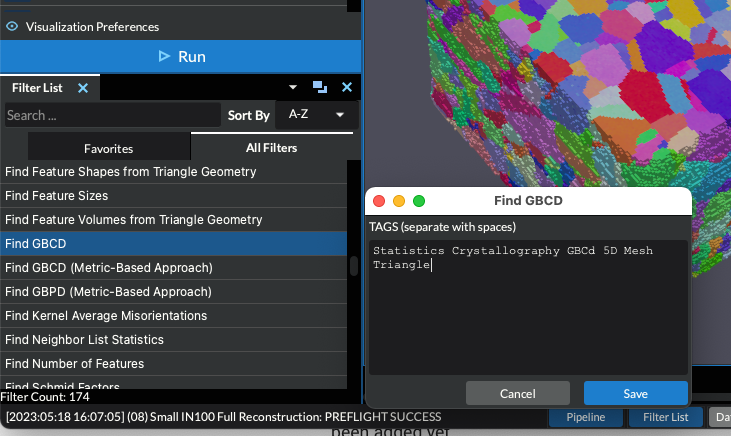 DataStructure View Search/Filter¶
The DataStructure view can be filtered by typing in the search field.
| Before Searching | After Searching |
| --- | --- |
| | |
Updated Features¶
Approximately 232 filters from DREAM3D version 6.x have been updated to work with this version
Bookmarks for pipelines
Known Issues¶
Some user interface interactions may not work, most notably undo/redo support has not been added yet.
DREAM3D Version 6 pipelines will NOT work in this new version. You will need to manually rebuild your pipelines in NX. The engineering team is actively working on a solution to this.
Missing synthetic building filters (StatsGenerator and it's friends)
Over 60 of the ITK wrapped filters are available.
Rarely used filters from previous DREAM.3D version 6.5/6.6 (See this page)
Being part of the DREAM.3D Beta trial period¶
If you would like to try out the new version, please download from the links provided below. We will attempt to post new builds on a monthly basis. Each beta version will expire 45 days from the date of release.
Important Beta Notes¶
*TELEMETRY HAS BEEN DISABLED IN RC-7
Send us your feedback¶
The continued support of DREAM3D-NX development is dependent on a thriving community as a way to show high uptake to the funding agencies. Giving feedback, posting feature requests, asking for help on the DREAM3D Google Group are all ways to show the community cares about the continued development of DREAM.3D.
Submitting Issues¶
We are hoping to gain valuable feedback in all aspects of the operation of each release. We would like to strongly encourage users who encounter issues when running DREAMD NX to please submit issues here. We also encourage you to submit suggestions for missing filters to be ported from the previous version of DREAM.3D.
Funding Sources¶
DREAM.3D NX is currently under development through DoD funding. If you are a US Government employee you are entitled to the full version of DREAM.3D NX. For the larger community we are making a feature limited version of DREAM.3D NX available for non-commercial use. Any other use of DREAM.3D NX should seek an apppropriate license from BlueQuartz Software (more information coming soon on pricing).
| Funding Source | |
| --- | --- |
| | DREAM.3D NX was made possible through a US DoD SBIR Phase I, Phase II and OpenBAA contracts through AFWERX and AFRL. |
Features of DREAM3D-NX¶
DREAM.3D consists of data analysis tools (Filters) that allow for the construction of customized workflows (Pipelines) to analyze data. DREAM.3D provides a flexible and extensible data structure that eases data transport between collaborators by storing data in a non-proprietary format.
DREAM.3D makes the reconstruction of 3D data simple and straight forward. The development of additional features is ongoing and the DREAM.3D development team welcomes your feedback whether you are a first time user or seasoned user.
3D Reconstruction of EBSD data from EDAX (.ang), Oxford (.ctf) and Bruker (.ctf) data files. The reconstructions can utilize an array of alignment, cleaning, segmentation algorithms and coloring algorithms.
Many options to import and export various file formats
Many algorithms are available to extract various statistics about your data
Many filters from the image processing library ITK
Open Source base library¶
DREAM.3D NX is built from multiple repositories, some open, some private. The base library and all of the the filters themselves are open source and can be found at:
The user interface is currently under going development and the license model has not been decided upon.
Citing DREAM.3D NX in Publications¶
Users wishing to cite DREAM.3D in their research publications are referred to https://link.springer.com/article/10.1186/2193-9772-3-5 for the proper citations.